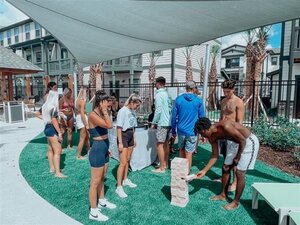 ---
The UCF and Valencia school year has just begun and we're incredibly excited to have a new, amazing group of residents. To kick off a great year at The Retreat East, we planned a calendar jam-packed with a variety of residence life events themed to popular shows and movies to give our residents and their friends the opportunity to meet and mingle with their neighbors and to enjoy spending time in our luxury amenities.
Week One - Share a Coke
For our first resident event, we held Share a Coke with The Retreat East in the Clubhouse on the Coffee Bar. For preparation of Share a Coke with The Retreat East, we made stickers to go on Coke cans and made popcorn with our popcorn machine. This event allowed residents to socialize with The Retreat East staff as they received their keys on Move-In Day!
Week Two - The Breakfast Club: On the Go
The Breakfast Club: On the Go was our second resident event and we held it outside of the Clubhouse front door! For preparation for The Breakfast Club: On the Go, we picked up Chick-fil-A biscuits, orange juice, and small motivation notebooks. We handed out these notebooks, juice, and biscuits to residents on their first day of class. Residents were very thankful for their warm biscuit breakfast while waiting for the shuttle to take them to class!
Week Three - Supermarket Bingo
During our third week of resident events, we held Supermarket Bingo on resort-style pool deck! Residents had the chance to win an Italian, Taco Night, Dessert, Movie Night, or Midnight Snack basket by playing grocery bingo. Our residents were excited and competitive during grocery bingo! This event is a must to do again!
Week Four - Outer Banks: Retreat East
For our fourth resident event, we held Outer Banks: Retreat East by our resort-style pool. For this event we partnered with Valet Living and they brought Pizza Hut pizzas for our resident to enjoy "Pizza for Pogues". Residents were able to ask Valet Living questions regarding their valet trash here on property and home app!
Week Five - Last Chance U: Retreat Tailgate
Our residents enjoyed their time at Last Chance U: Retreat Tailgate at the pool waiting for the Friday night UCF game! We were able to provide Buffalo Wild Wings and Lazy Moon pizzas for almost 120 residents and guest. Residents played cornhole, threw the football, and enjoyed their food before they headed home to watch the game. We also had a donation section set up to donate to the Pet Alliance of Greater Orlando.
Week Six - Roommate Mixer
Our very last week of our 6 in 6 events, we held Every Second Counts: Roommate Mixer. Residents were able to compete against each other through minute-games for a chance to win Retreat East promo! Some of the games included: Face the Cookie, Defy Gravity, Unstack It, and Water Pong! Our residents loved competing over branded backpacks, beach bags, water bottles, and more!
Our team has had such an amazing time getting to meet our residents over the past 6 weeks. Here at The Retreat East, we strive to create the best experience in UCF/Valencia off campus housing and hosting a variety of awesome resident events is just one part of achieving that. Keep an eye out for more events to come, we're looking forward to a great year!